Automotive Paint
Protection &
Beautification
In the world of automotive paint protection, Permagard stands out as a leader for quality and durability. Founder Luc Lefebvre d'Argencé started as an independent, small-time automotive detailer over 40 years ago. He started detailing cars in his home state of California at only 15 years old, and just like the many satisfied Permagard customers today, his quality of work spread through word of mouth. It resulted in a successful small business for him that ultimately led to the founding of Permagard, thus allowing him to develop a product that would revolutionize the automotive, aviation, and marine industries.​​​​​​
With his passion and expertise, Permagard has since earned a reputation as a world leader of automotive paint protection in the industry. Proudly manufactured in Miami, Florida, our company is ISO-9001 certified, meaning all our automotive paint protection products adhere to strict quality standards. Here's why Permagard is the perfect choice for your automotive paint protection needs.
How Does Permagard Work?
Permagard is an advanced Reactive Polymer coating that is applied directly onto your vehicle's paintwork. It acts as a sacrificial layer to permanently protect the clear coat and base coat of your vehicle, ensuring maximum protection for your car's original paint specifications from daily environmental attacks. Simultaneously, it also vivifies your paint to create a beautiful brilliance that cannot be achieved by any other product in the industry.
Cross-Linking
Permagard utilizes a chemical process called cross-linking, resulting in a strongly linked chain of ionic bonds that produces permanent paint protection across the entire treated surface. It's an excellent, non-invasive form of paint protection that permanently guards 100% of your paint and clear coat efficiently. Protecting 100% of the thickness of painted surfaces is what gives you the depth of shine that Permagard is famous for.
Environmental Protection
Environmental attacks such as UV rays, extreme temperatures, salt, exhaust residue, tar, tree sap, bird droppings, acid rain, and insects, affect every car on the road. Other factors such as oxidation, fading, corrosion, snow, and heavy storms, all take their toll on your car's paintwork. Permagard acts as a permanent protective layer, producing 4 microns of flexible thickness. It acts as the first line of defense against environmental attacks, protecting your vehicle's original paint specifications.
Unparalleled Shine
Permagard's advanced Reactive Polymer coating gives your vehicle a breathtaking glow and unrivaled gloss that no one else can effectively replicate. Our coating ensures that your car will maintain its better than new shine, due to our exceptionally high gloss readings. Your car will turn heads wherever you go, for many years to come.
The
Benefits

Of Our Automotive Paint Protection

Whether it's the simplicity of application, full environmental protection, or remarkable shine, Permagard offers the very best in high-quality automotive paint protection coatings.
Ease of Application
Permagard is easy to apply for anyone with car polishing experience. It can be applied in as little as one day, without the need for compounding or etching of the paint prior to applying. Our application process can be learned in as little as two hours, and there is no requirement for a sterile, controlled environment or paint booth to apply any of our products.
Cures as You Drive
With Permagard's automotive paint protection, the initial application can take only one day to complete. There is no requirement for curing lamps for our automotive paint protection products to fully cure, as they will do so on their own for the next 24 hours, which results in minimal downtime without your vehicle. As soon as your initial application is completed, your car can be driven immediately. Our products also do not contain any wax or silica, so if you encounter extreme heat or blistering cold during the curing process, rest easy knowing your car will still be permanently protected from the elements.
Enhanced Paint Vibrancy
Permagard's advanced Reactive Polymer coating works to beautify your car's paintwork by restoring oxidized and dull surfaces, making your paint's colors flourish vividly with deeper contrasts. Our product also reduces the appearance of marring and micro-scratches to ensure an impeccable finish.
Whether it's Modern or Classic
For brand new or freshly painted cars, simply apply Reactive Polymer. For older vehicles or cars with little to no driving time, it is imperative to use one of our pre-treatment products, Treatment for Very Damaged Surfaces or Treatment for Slightly Damaged Surfaces, to guarantee effective results. Our pre-treatment is designed to clean, prep, and polish painted surfaces, so that when Reactive Polymer is applied, your vehicle will be restored and revived to look better than brand new.
Simple Maintenance
With such an effective application process, we wanted to ensure that maintaining your car's permanent protection and stunning appearance would also be a simple and sensible process by using our high-quality maintenance products.
Wash Routine
Cleaning your car is as easy as following your regular car wash procedure. The best wash results will always come from hand washing your vehicle with simply water and a PH-neutral shampoo, for removing dirt and grime. However, we do not warn our customers about using automatic car washes like our competitors do, as our Reactive Polymer is incredibly durable, and it will not be removed from automatic car wash brushes.
One-Stop Shop
Our maintenance process requires only 2 products that you'll need to maintain your freshly Permagarded car: Permagard Shampoo for wet washes, and our Cleaner for Treated Surfaces for spot cleaning, insects, and stain removal.
The Annual
Permagard will keep your car permanently protected over the course of its life. However, over time, your Reactive Polymer coating may incur micro-scratches and lose some of its water repelling properties. That's where our Service Treatment comes in to fill in those micro-scratches on the Reactive Polymer coating, while also restoring the gloss and slickness that may have been affected by environmental hazards. Our Service Treatment is also applied the exact same way as our Reactive Polymer, ensuring that your beautiful car maintains regular gloss readings of over 90 units. Maintaining your Permagard treated surfaces with the Service Treatment will protect 100% of your paint's thickness over the course of its life.
What About
Competing

Products?

Permagard's easy maintenance process is what sets us apart from our competitors. There is no need for countless maintenance products, numerous top coats to be applied multiple times, or a sterile, temperature controlled environment, such as our competitors' maintenance routines, as Permagard prides itself on being as simple as possible to maintain for our customers. All our competitors require paint etching using compounds (paint correction) and clay bars (paint decontamination) for their products to be effective. Every time a painted surface is compounded, or clay barred, a layer of paint is removed which reduces the paint's thickness, and therefore the depth of shine. Our competitors can make paint shine, but they will only protect 60% or less of your paint's thickness due to their processes. Permagard gives painted surfaces the wet look effect by protecting 100% of your paint's thickness for as long as you own the treated asset.

We pride ourselves on offering high-quality USA-made products at a reasonable price, while streamlining the process, to ensure the best results for automotive detailers worldwide. All Permagard products are also non-toxic and safe to apply for any automotive detailer. Permagard regularly drop-ships around the world using all available ground and air freight options, and all our products have a shelf life of 18 months from the manufacture date.​​​​​​​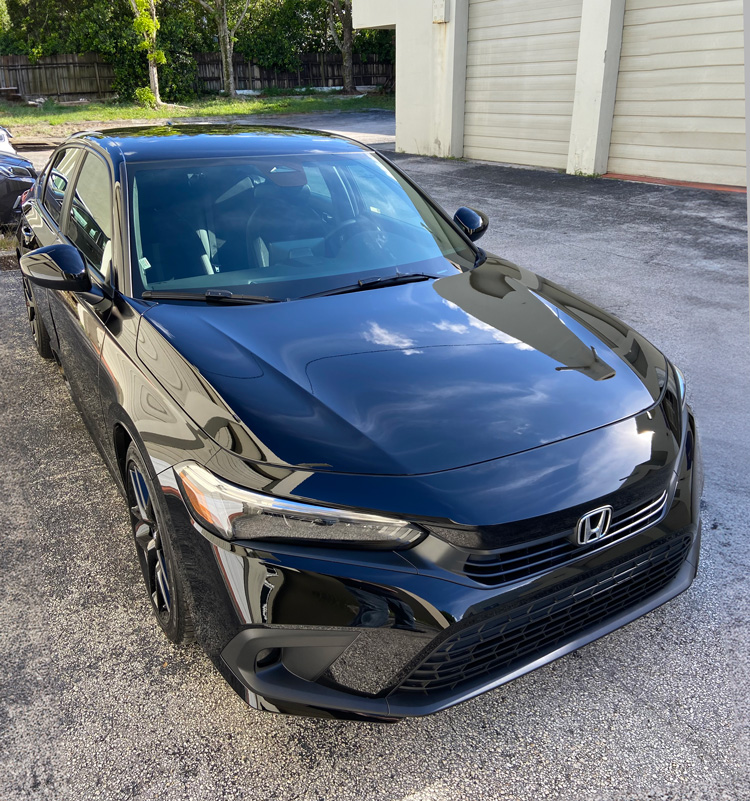 Trusted By Industry
Leaders
Permagard's accredited excellence isn't just a claim. We're backed by some of the biggest names in the automotive industry. With Permagard approvals from renowned automotive manufacturers such as:
Honda
Mitsubishi
Mazda
BMW
Mercedes-Benz
Permagard consistently meets the strict standards set by these automotive giants. When you make the choice to choose our brand for your automotive paint protection needs, you're choosing a product that not only offers unrivaled protection and shine, but is also endorsed by some of the most respected automotive manufacturers in the world.​​​​​​​
Permanent

Automotive Paint Protection With Permagard

We know the automotive industry better than anyone, and we pride ourselves on manufacturing high-quality automotive paint protection solutions for any vehicle in the world. With our products' ease of application, unrivaled permanent protection and shine, and our simplified, quality maintenance routine, you will be assured knowing that your car will be continously spoiled for many years to come with the best automotive paint protection solution available in the industry.​​​​​​​

​​​​​​​

When you choose Permagard, you're choosing durable permanence, maximum protection, and stellar performance. It's time to shine and see yourself in your brand. Make the call and have your car Permagarded today. Call our Permagard Headquarters office at 305-662-5070.​​​​​​​​​​​​​​
Two brand new Ferraris that were Permagarded 20 years ago