Aircraft Paint Protection &
Beautification
With a legacy that began in 1998 by founder Luc Lefebvre d'Argencé, Permagard has earned a reputation as a high-quality aircraft paint protection solution. Proudly manufactured in Miami, Florida, our company is ISO-9001 certified, meaning our products adhere to the strict ISO-9001 standards of the Quality Management System.
Our products are designed to thrive not only in the harsh climate of South Florida but anywhere in the world your aircraft may venture, making it the perfect choice for aircraft subjected to extreme weather conditions.
How Does Permagard Work?
Permagard is a Reactive Polymer coating that is applied directly on top of paint. Permagard protects and enhances your aircraft's paint and clear coat, ensuring maximum environmental protection from all regions around the world and a stunning glossy appearance that turns heads on the runway and in the sky.
Cross-Linking
Our Reactive Polymer utilizes a chemical process called cross-linking, creating a strongly linked chain of ionic bonds that produces permanent paint protection across the entire treated surface. This chemistry provides the best non-invasive form of paint protection, assuring your paint and clear coat will be permanently guarded.
Environmental Attacks
Environmental attacks such as UV and infrared rays of the sun, salt laden air, extreme temperatures, dust, sand, runway grime, and insects, are natural and inevitable occurrences in the world of aviation. Whether it's the scorching sun, intense icing, acid rain, or harsh oxidation, rest easy knowing your aircraft will be protected from anything thrown its way. Permagard acts as a sacrificial layer, producing 4 microns of highly flexible thickness while protecting the paint and clear coat, and being the first line of defense against environmental attacks to protect your aircraft's paint as much as possible with virtually no added weight.
Unrivaled Shine
No one else comes close to the appearance of an aircraft that has been freshly treated with our Permagard Aviation Reactive Polymer. With gloss readings in the mid to high 90s, Permagard assures that your aircraft will be as beautiful and luxurious as the day you first laid eyes on it. With a touch as smooth as satin, your senses will be continuously spoiled for years to come.
Key
Benefits

To Our Aircraft Paint Protection

Permagard leads the way when it comes to beneficial properties in aviation paint protection. Whether simplifying the application process, providing full protection from the elements, or providing a shine like no one else, Permagard is as lustrous as the aircraft it bonds with.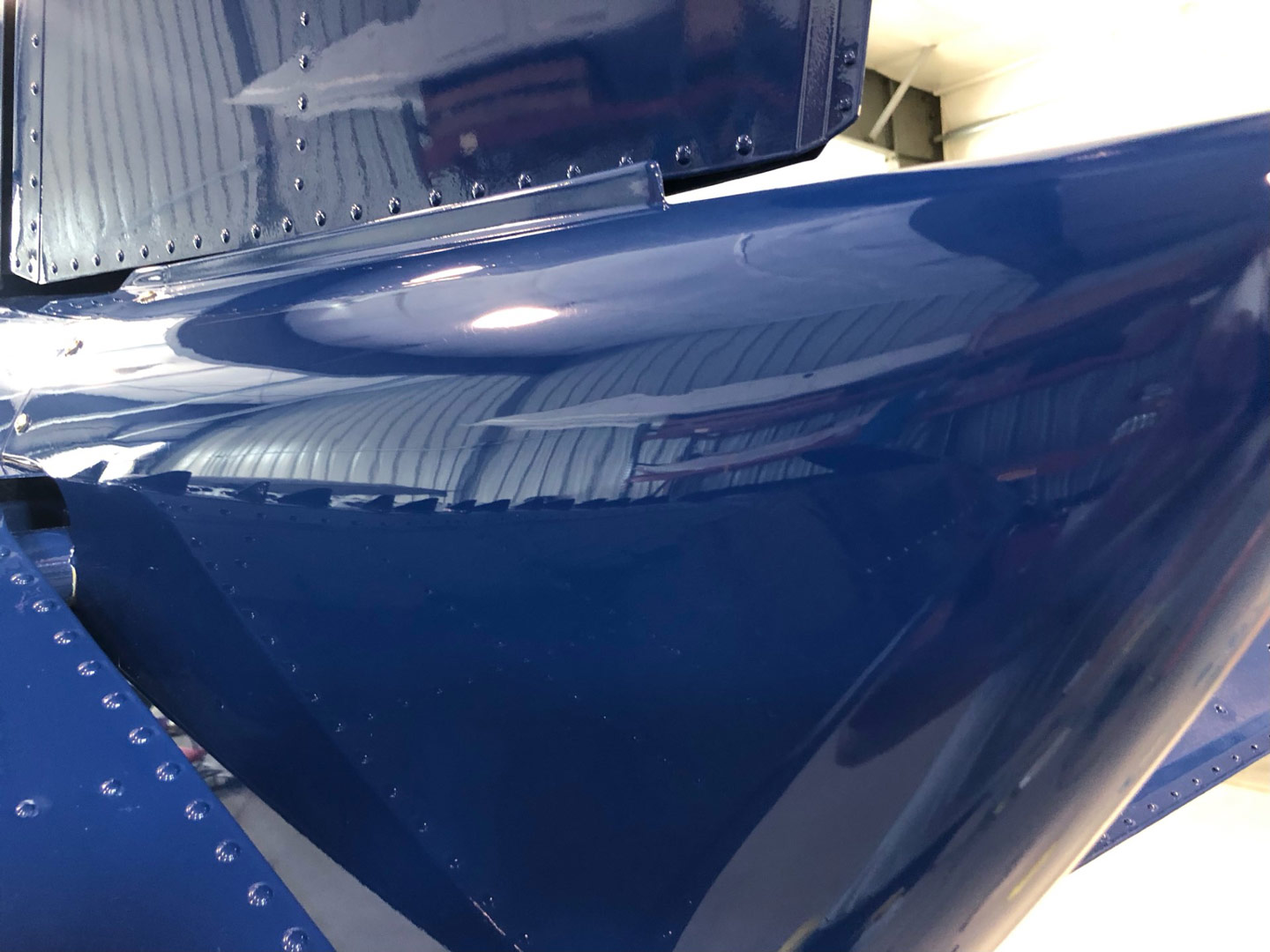 Ease of Application
Permagard is easy to apply for anyone with aircraft polishing experience and it also streamlines the process to achieve maximum results in a reasonable frame of time, with no requirement for compounding or etching the paint (use of a clay bar). With a process that can be learned in as little as two hours, we guarantee high quality training to prepare you for any situation that you may come across as well as a full understanding of all our products. Permagard can also be applied in any indoor environment, with no need for sterile, controlled facilities such as a paint booth.
Minimal Downtime
In the rigorous world of aviation, every minute matters. Whether it's an initial application or a maintenance session, Permagard understands the assignment. Once an initial or annual application is complete, the aircraft can take off. There is no need to wait before our product fully cures as it will do so on its own in any environment, ensuring no time is spent on the ground due to a long curing or drying process. With the flexibility to apply to any aircraft straight out of painting or the simplistic procedure of an annual Service Treatment, we make sure to save you precious time to get you back into the sky as soon as possible.
Enhanced Paint Vibrancy
Our Reactive Polymer coating works to enhance your aircraft's paintwork, so that colors appear more vivid and deeper, giving your aircraft a breathtaking appearance. Your aircraft's paint will flourish, and colors will bring an intense appearance with high contrasts. Whether it's a brand new jet or a vintage prop plane, no painted surface will appear dull, aged, or lifeless, if it's protected with Permagard.
Whether New or Old
Brand new or freshly painted aircraft? 20 year old dull and oxidized paint? Permagard protects and bonds to all painted surfaces, no matter the age. For newly painted aircraft, simply apply Reactive Polymer. For older aircraft, we recommend using our pre-treatment products before applying Reactive Polymer: Treatment for Very Damaged Surfaces or Treatment for Slightly Damaged Surfaces. Each aircraft's paint job is unique and has different amounts of flight time it's endured, so keep this in mind when applying our products. Whether it's straight out of manufacturing or 10 years old with thousands of miles, there's nothing quite like seeing a freshly Permagarded aircraft, looking better than brand new, take off into the sky and shine with the sun.
Simple Maintenance
When it comes to maintaining your aircraft that's been protected with Permagard, it was imperative that we create a sensible process. We manufacture high-quality aerospace maintenance products, provided in a streamlined manner, to protect and revitalize your coating at all times.
Wash Routine
When it comes time to cleaning your aircraft, it's as easy as following your regular wash protocols. Our Reactive Polymer doesn't contain any wax or silicate, so there is no need for constant rebuffering when it comes to detailing. It also has an incredible slickness to it that makes it very easy to wash all aircraft with simply water and our maintenance products.
One Stop Shop
Our maintenance process consists of only 2 products: Multipurpose Cleaner for wet washes & aircraft wipe downs, and Cleaner for Treated Surfaces for spot cleaning and stain removal. No need for numerous sprays of liquid, waxes, or wax based cleaners, to maintain Permagard.
The Annual
Remember, our Reactive Polymer coating is the first line of defense protecting your aircraft's original paint from the elements. Our Service Treatment, which is applied every 12-18 months to fill in micro scratches on the Reactive Polymer coating, restores glossiness and slickness that may have been impacted from flight time and environmental hazards. Rest easy knowing that Service Treatment is applied the exact same way as Reactive Polymer, using the same process, to provide the most exceptional restoration of the Permagard coating, guaranteeing to maintain gloss readings greater than 90 units over the life of your aircraft's paint.
Competing Products
One of the many things that sets us apart from our competitors is how simple it is to maintain Permagard. We don't require multiple layers of coatings, countless maintenance products, or an unreasonable application environment. We pride ourselves on offering high-quality USA-made products at a reasonable price, while streamlining the process, to provide the best experience for detailers and aircraft owners worldwide.

​​​All Permagard products are non-dangerous goods and are regularly drop-shipped anywhere around the world using all available ground and air freight options.

All Permagard products have a shelf life of 18 months from the date that they are proudly manufactured at our production facility in Florida.
Aircraft Paint Protection With
Permagard
Permagard is the global leader in OEM and MRO approvals. We are proud to be approved by some of the biggest names in the aviation industry such as:
Airbus approved
Boeing standard
Bombardier (In Process)
Dassault Aviation approved
Embraer approved
Gulfstream approved
Textron Aviation approved
Permagard would not be what it is today without its deep aviation roots. We know the industry, inside and out, and we pride ourselves on producing a high-quality aircraft paint protection coating, available for any aircraft in the industry. The appearance and protection of your assets is as important to us as it is to you. It's time to shine and see yourself in your brand. Make the phone call that will change your business forever. Call our Permagard Headquarters office at 305-662-5070 for more information.